American Kennel Club

k Here.


What's in a Name?
Although relatively new to the AKC, the Havanese is quite an old breed. The Havanese has been known through history by a variety of different names including: Havana Silk Dog, the Petit Chien Havanese, the Blanquito Cudano, the Spanish Silk Poodle, the Bichon Havanese and the Bichon Habanero.

The National dog of Cuba is still the "charming little dog" of the island today. Zoila Portuondo Guerra, founder of the Cuban Kennel Club and the Havanese Club of Cuba, writes, "The world-famous Bichon Havanese is the only existing purebred dog of Cuban origin, a rare blend of intelligence, personality, and natural beauty. Bred for its family-oriented temperament and loving ways, the Havanese is prized in the homes of the Cuban people as well as by fanciers in Europe and America."

General Appearance
The Havanese is the National Dog of Cuba. He is beloved as a friendly, playful, alert and intelligent Toy dog with a mischievous expression. He is a small sturdy dog of many colors and marking patterns.
A moderately boned but not fragile dog, the acceptable size range is from 8 1/12 to 11 1/2 inches. The untrimmed long, soft, wavy coat may be brushed or corded. High head carriage, topline rising slightly from withers to rump, rectangular body, and plumed tail carried over the back makes the Havanese outline unmistakable. The unique springy gait sets the Havanese apart from all the other breeds.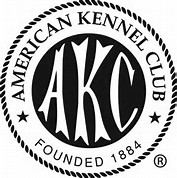 Blessing Acres's Havanese breeding stock is AKC registered.
Blessing Acre's Havanese pups are sold with Limited AKC Registration, for pet purposes. Full registration may be available to approved breeders.
Blessing Acres " Grace", one of the foundation Dams for our current Adult breeding stock.
Grace was directly imported to the USA from Hungary. by a retired Breeder from Arkansas.
Click AKC image to go to AKC Havanese Description