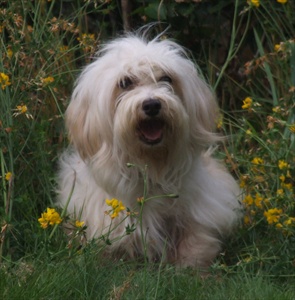 Have you considered that there may be another way to treat some of the health issues for your pets, besides using chemicals and surgery? Boosting up your pet's nutrition, goes a long way in preventing disease.
We are very thankful for our Veterinarian, and we use her services when needed. Our vet has saved a couple of our dogs lives.......one ate a rock......we couldn't treat that with herbal medicine. We had to get the rock out through surgery.
Blessing Acres has been using Holistic and Herbal Medicine for many years for their human family.
We have always wanted to learn more about natural health for pets. We do know that probiotics, fish oil, and nutritional supplements are good maintenance for dogs. Dogs also need to have a good quality food, without corn and chemical preservatives.
We are in the process of educating ourselves about Herbs for pet purposes. We recently healed up a large closed scabby head wound on one of our Havanese, with "Silver Shield", from Natures Sunshine Products, and some anti-bacterial liquid herbs.
We will post most Herbal Animal Health information on our site, as we learn.
Higher Living Wellness
A wellness business owned by Doug and Terese. We are Independent Distributors for Natures Sunshine Products (NSP).



Our family has used NSP herbs and supplements since 2002. The herbs and nutritional supplements from NSP, are far superior from any other brand we have used. This includes Naturopathic Doctor recommended brands.